Single sign-on (SSO) is an authentication process that allows a user to access multiple applications with one set of login credentials. SSO is a common procedure in enterprises, where a client accesses multiple resources connected to a local area network (LAN).

AlphaLearn supports SSO. To provide single sign-on services for your domain, AlphaLearn acts as a service provider (SP) through the SAML (Secure Assertion Markup Language) standard.

To get started, you need an OneLogin account to handle the sign-in process and provide your users credentials to AlphaLearn.

The information required by AlphaLearn is:
A unique identifier for each user.
The users first name and last name.
The users email.
---
Step 1: Setup SSO in AlphaLearn
1. Login in to AlphaLearn.
2. From top navigation bar go to Customize >> SSO
3. Click on Create button and Select Identity Provider i.e One Login and Click Submit.

4. To view Config Details details, click on the respective row. You will see a SSO Config form along with details below it.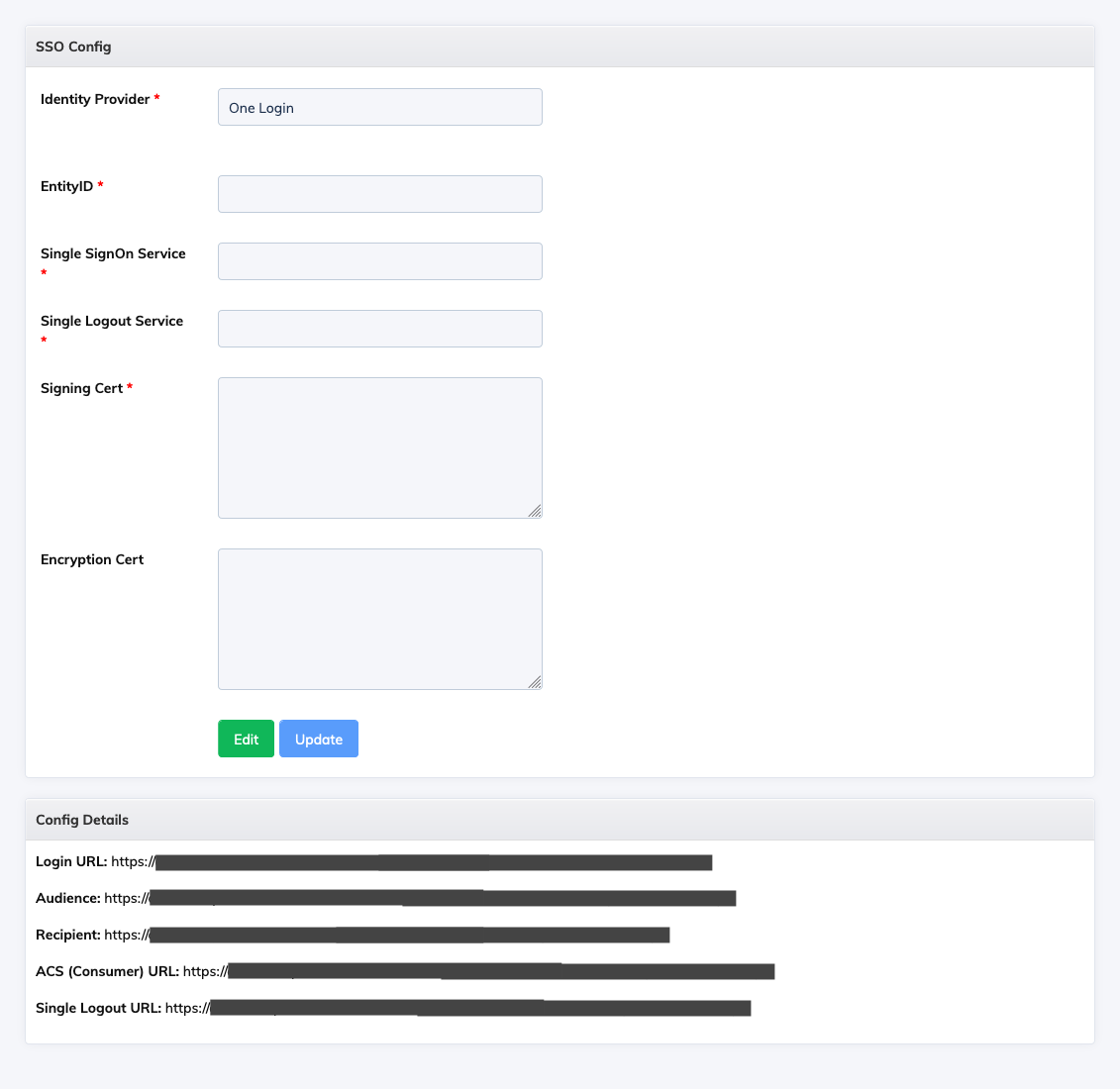 ---
Step 2: Configure the OneLogin
1. Sign in to your OneLogin account and, from the top navigation bar, go to Applications > Add Apps. In the search field, type saml test and press Enter. On the search results, click SAML Test Connector (IdP w/ attr w/ sign response).
2. In the Configuration tab, add your Display Name and click Save.
3. After saving, Click on Configuration tab and fill in the respective details according to the SSO Config details provided by AlphaLearn.
i.e Refer to Step 1.4.
Note: ACS (Consumer) URL Validator* value will be astrek '*'and RelayState will be blank.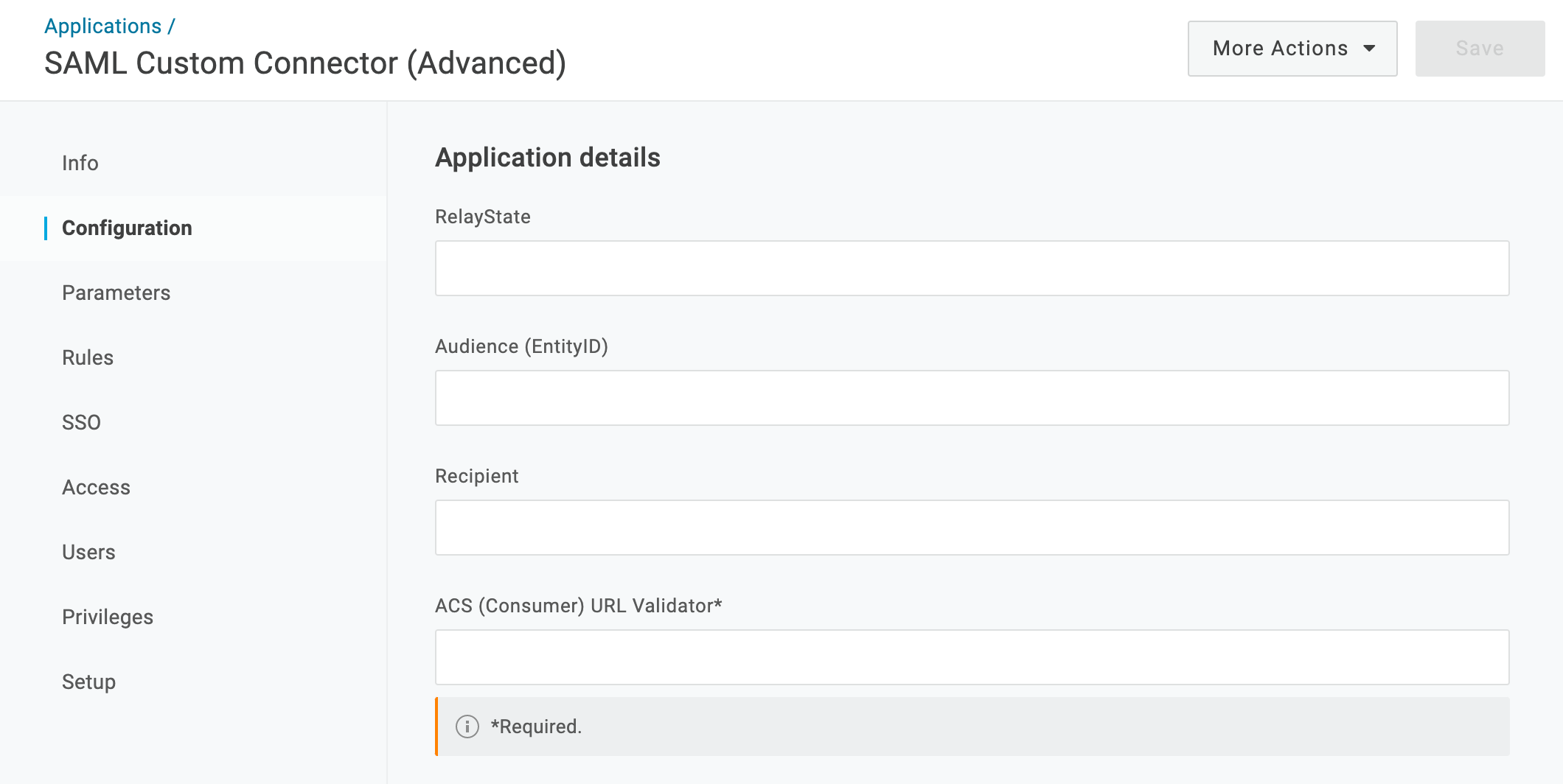 4. Click on Parameters tab, click on + icon below and add following fields:-
Note:- While adding a new field, select 'Include in SAML assertion'under Flags.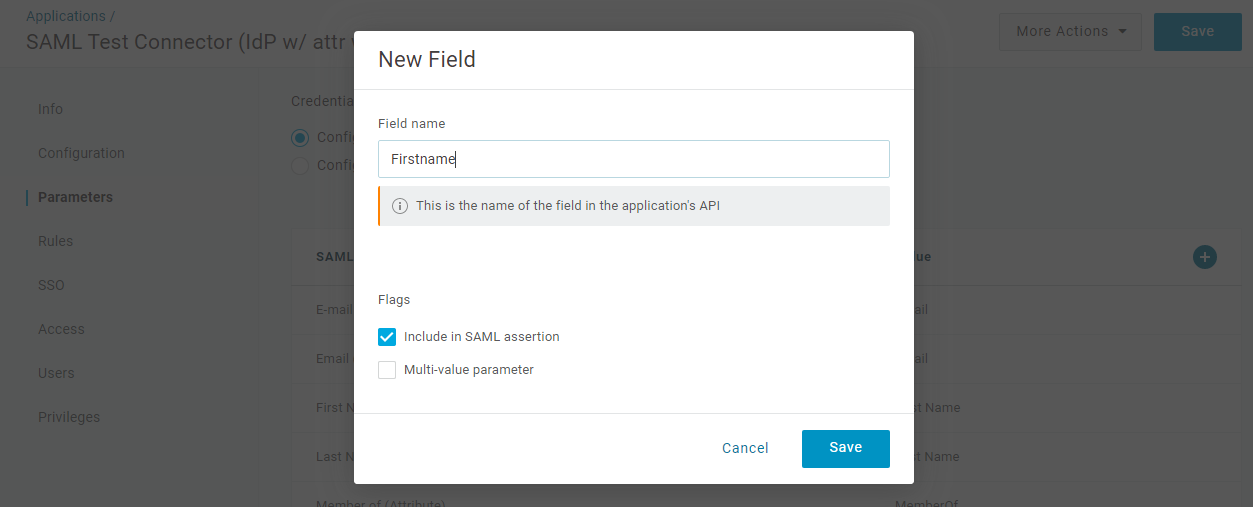 After filling in all necessary fields, click the save button above.
5. Go to SSO tab. At top of the page Click More Actions >> SAML Metadata. A XML file will be downloaded. Note down entityID, X509Certificate, SingleLogoutService, SingleSignOnService from the file.
Step 3: Enable SAML SSO for your AlphaLearn
1. Go to ALphaLearn and visit the SSO Config you created in Step 1.4.
2. Fill in respective fields with the values you noted down in Step 2.5 and click Submit.